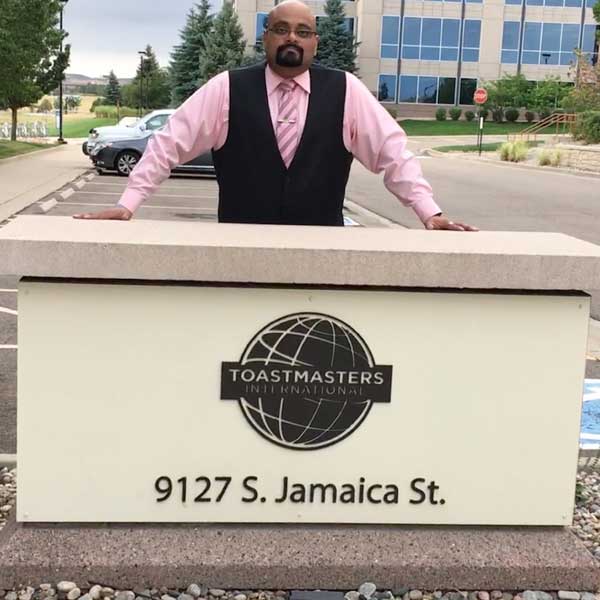 ---
John's public speaking story begins in the mid-1990s when he stepped onto the stage of Yuk Yuk's Comedy Club in Ottawa, Ontario. He was only 20 years old, but he was getting BIG laughs from the patrons in just his second New Talent Night appearance. His love for performing in front of a crowd was born.
John's career has taken many twists and turns since those comedy nights in Ottawa. He has been a student, a software developer, a microwave interference technician, a licensed funeral director, a tutor and a technical writer. However, public speaking has always been a part of his journey. Whether it was corporate presentations or stand-up comedy as a hobby, John always found reasons to get up in front of a crowd.
In early 2015, John visited a Toastmasters club and gave his ice-breaker (first speech project) on the night that he joined. In the fall, he competed in his first contest, won 3 rounds and competed in the District finals after just 6 months in the organization.
In 2017, after progressing through the Toastmasters educational program, John turned a 15-page essay that he wrote 11 years earlier in college into a 7-minute speech, which he entered in the 2017 International Speech Contest. John won 4 levels of the International Speech Competition to become the District 60 champion and represent the Toronto area at the Toastmasters World Conference in Vancouver, British Columbia. In Vancouver, John faced 9 other district champions (from 4 continents) to win his semifinal round and earn a berth in the final round of the World Championship of Public Speaking™. By progressing farther than any other Canadian that year, he earned the (unofficial) title of Canadian Champion of Public Speaking. He also became just the 11th person in District 60 history to compete in the final round for the WCPS and only the second in the previous 20 years. John did not place in the top 3 of the WCPS, but he received the biggest reaction of the competition from the audience of 2400 people and left Vancouver as a fan favourite.
---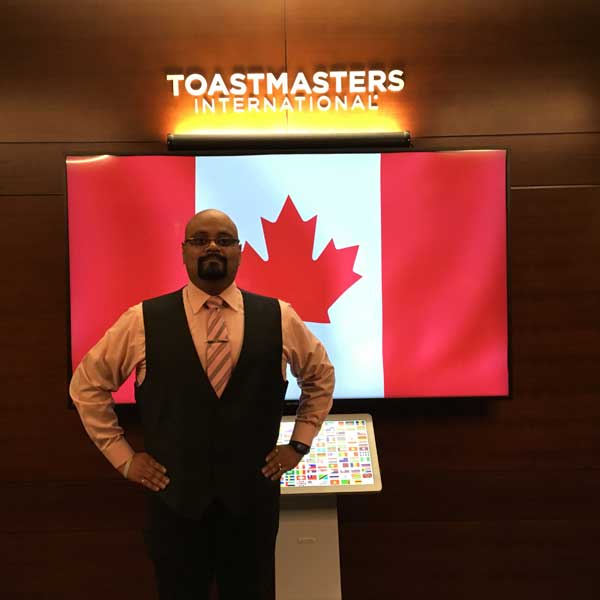 John's attempt to become the 2018 World Champion of Public Speaking ended in disappointment when he did not win at the district level. However, he turned this defeat into opportunity as he spent the summer pursuing and achieving his certification as a World Class Speaking Coach.
In 2019, John became a full-time keynote speaker, corporate trainer and speaking coach. However, he has not given up on his quest to become World Champion of Public Speaking. In his own words…
I will keep competing until one of two things happens. Either I become the World Champion of Public Speaking, or a doctor writes me a certificate saying I can no longer compete. And that doctor will have to be the coroner.
Sign up to John's Free Web Series:
13 Pointers To Pump Up Your Presentations
Timeline
Date
Speaking Achievements
Other Achievements
2001
B.A.Sc. Computer Engineering
2006

Diploma in Funeral Service (with Honours and 9 educational awards including top academic standing in program)
Funeral Director's Licence (issued with Honours and highest mark on licencing exam)

2015

Division Champion: Table Topics Contest
Second Place (Area): Humorous Speech Contest

2016

Second Place (Area): Humorous Speech Contest

2017

Won semifinal and spoke in final round of World Championship of Public Speaking
Third Place (District): Humorous Speech Contest
Second Place (Area) Table Topics Contest

2018

Division champion: International Speech Contest
Certification World Class Speech Coaching

2019

Second Place (Area): Evaluation Contest
Division Champion: International Speech Contest